What Remains of Me: A Novel (Mass Market)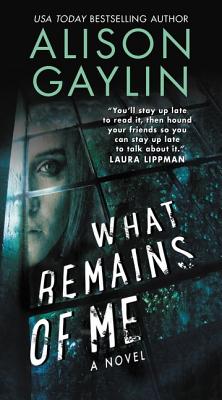 $10.99
Unavailable To Order
Description
---
On June 28, 1980, Kelly Michelle Lund shoots and kills Oscar-nominated director John McFadden at a party in his home. For years, speculation swirls over the enigmatic seventeen-year-old's motives. Convicted of the murder, she loses her youth and her freedom—but keeps her secrets to herself.
Thirty years later—and five years after her release from prison—the past has come back to haunt Kelly. Her father-in-law, movie legend Sterling Marshall, is found in a pool of blood in his home in the Hollywood Hills—dead from a shot to the head, just like his old friend John McFadden.
Once again, Kelly is suspected of the high-profile murder. But this time, she's got some unexpected allies who believe she's innocent of both killings. But is she?
About the Author
---
Alison Gaylin is the award-winning author of Hide Your Eyes and its sequel, You Kill Me; the standalones Trashed and Heartless; and the Brenna Spector series: And She Was, Into the Dark, and Stay with Me. A graduate of Northwestern University and of Columbia University's Graduate School of Journalism, she lives with her husband and daughter in Woodstock, New York.
Praise For…
---
"An exceptional book by and exceptional writer. Gaylin is an expert at acute emotional observation combined with seamless plotting. I adored this book."
— Alex Marwood, Edgar Award-winning author of The Killer Next Door

"An era in which privacy is becoming a myth and people's lives often are played out in the media, scrutinized for every telling detail, makes a provocative foundation for Alison Gaylin's absorbing What Remains of Me."
— Associated Press

"Prepare to be blown away by this powerfully suspenseful and richly atmospheric novel."
— Jennifer McMahon, New York Times bestselling author of The Night Sister on WHAT REMAINS OF ME

"What Remains of Me is a riveting, emotionally complex thriller, filled with characters who jump from the page and grab your heart until you reach the final, stunning twist. This is Alison Gaylin in top form."
— Alafair Burke, New York Times bestselling author of The Ex

"A perennial standout among psychological suspense authors, Alison Gaylin is on top of her game in this clever and stylish page-turner. Gaylin skillfully catapults an intricate suspense plot with beautifully constructed prose. An ambitious thriller-meets-character study, What Remains of Me is a breath of fresh air!"
— New York Times bestselling author Wendy Corsi Staub on WHAT REMAINS OF ME

"WHAT REMAINS OF ME gives us Alison Gaylin at the top of her game... Just when you think she's wrapping things up, Gaylin throws in still more mind-bending - yet oh-so-perfect - plot twists. Prepare to be blown away by this powerfully suspenseful and richly atmospheric novel."
— Jennifer McMahon, New York Times bestselling author of The Night Sister on WHAT REMAINS OF ME

"Alison Gaylin's What Remains of Me is a riveting, intricate thriller that snares you from its first pages... it's a tale full of crackling energy and heartache, with a resolution so thrilling and audacious, you'll be left gasping for air."
— Megan Abbott, Edgar Award-winning author of Dare Me and The Fever on WHAT REMAINS OF ME

"What Remains of Me is an elegantly constructed thriller that earns every you-never-saw-it-coming twist. You'll stay up late to read it, then hound your friends to follow suit so you can stay up late to talk about it."
— Laura Lippman, New York Times bestselling author on WHAT REMAINS OF ME

"A rich read."
— Kirkus Reviews on WHAT REMAINS OF ME

"Just when you think you know what happened, think again, and then again. It's a mix of unreliable narrators and people hiding secrets, but with more sympathetic characters than something like 'Gone Girl.'
— MK Graff on WHAT REMAINS OF ME

"This intricate mystery has enough tension and twists to please any suspense lover. But it is the characters that drive the plot. This exploration of human failings and the effect of secrets will have you thinking of these characters long after the last page."
— Romantic Times (4 1/2 stars) on WHAT REMAINS OF ME

"Gaylin fused her dual loves — Hollywood celebrity culture and true crime — for the first time in What Remains of Me. Then, she topped off her glamorously thrilling plotline by setting the lynchpin events 30 years apart."
— Woodstock Times on WHAT REMAINS OF ME

"What Remains Of Me is a smart multi-layered L.A. thriller with the range of emotion to match. It uses its setting perfectly, with the dream factory creating a nightmare for all to see. As Gaylin shows us, there is something even darker behind that."
— Scott Montgomery, MysteryPeople on WHAT REMAINS OF ME

"A terrific piece of Southern California noir about murder, sex, and the movie business. . .. Gaylin presents real elements of our movie and pop culture - and blends them with characters we can identify with. . . on the way to a surprising and satisfying finale."
— Connecticut Post on WHAT REMAINS OF ME

"The book equivalent of a You Must Remember This podcast contrasted with tabloid culture with twists that don't just embrace melodrama but revel in it."
— Sarah Weinman, The Crime Lady, on WHAT REMAINS OF ME

"Gaylin's hands are skilled, deft, and a little scary; it's hard to avoid saying "masterful precision" to describe her craft. And like the best movies (hint), it's an experience you sink into with relish. It gets under your skin."
— Jana Martin, Chronogram, on WHAT REMAINS OF ME