Drift: A Novel (Paperback)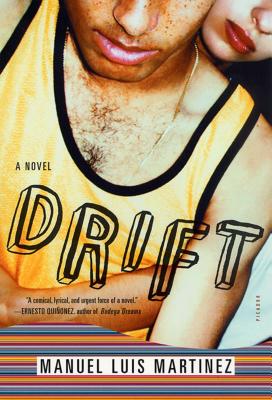 Description
---
An explosive, fierce, and lyrical novel, set in the barrios of San Antonio and Los Angeles, from an electrifying new voice in American fiction

At sixteen, Robert Lomos has lost his family. His father, a Latin jazz musician, has left San Antonio for life on the road as a cool-hand playboy. His mother, shattered by a complete emotional and psychological breakdown, has moved to Los Angeles and taken Robert's little brother with her. Only his iron-willed grandmother, worn down by years of hard work, is left. But Robert's got a plan: Duck trouble, save his money, and head to California to put the family back together. Trouble is, no one believes a delinquent Mexican American kid has a chance—least of all, Robert himself.

Wrenching and wise, Drift gives an unflinching vision of the menace of adolescence, the hard edge of physical labor, and the debts we owe to family.
About the Author
---
Manuel Luis Martinez is Assistant Professor of American literature at Indiana University. His novella, Crossing, was selected as one of the ten outstanding books by a writer of color by the PEN American Center. He lives in Bloomington, Indiana.
Praise For…
---
"Manuel Luis Martinez takes us into a world that exists all over this country but is rarely portrayed so deeply--the decidedly unmagical realm of struggling Mexican Americans. In Drift, he delivers the trials of his young hero with honesty and passion and some of the best writing about work I've ever read." —Stewart O'Nan, author of Wish You Were Here

"Forget the sociology for a minute, Drift's great achievment is the dear and moving portrayal of a grandmother and grandson who love each other profoundly. Such affection is just about the hardest art to pull off, but Manuel Luis Martinez makes it seem easy." —Victor LaValle, author of Slapboxing with Jesus and The Ecstatic

"Drift is the searing tale of a teenage boy torn apart by his longing for his broken family and the demands of his coming adulthood. The book is a sustained and beautiful triumph of voice -- a voice that cries out in every line with anguish, anger, and love." —Jonathan Ames, author of The Extra Man

"This novel is necessary. Manuel Luis Martinez takes us into a world that exists all over this country but is rarely portrayed so deeply--the decidedly unmagical world of struggling Mexican-Americans. In Drift, he delivers the trials of his young hero with honesty and passion and some of the best writing about work I've ever read." —Stewart O'Nan, author of A Prayer for the Dying

"A comical, lyrical, and urgent force of a novel. No matter how lost, abandoned, or unloved life makes us feel, Drift leaves us seeing the glass half full." —Ernesto Quinonez, author of Bodega Dreams