The Coast of Akron: A Novel (Paperback)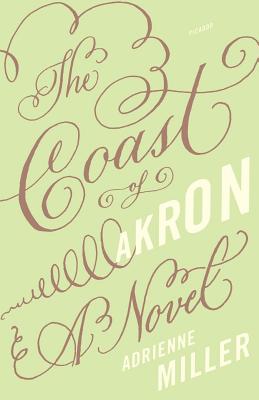 Description
---
A Chicago Tribune Favorite Fiction Book of the Year
An Amazon.com Editors' Pick of the Year
A Newsday Best Book of the Year

The Coast of Akron is the story of the gloriously unorthodox, maladjusted, brilliant Haven clan. In the thirty years since artists Lowell and Jenny met, inspired each other, and separated, Lowell ascended to fame while Jenny mothered their talented and now-grown daughter, Merit. In an attempt to answer questions and heal old wounds, Lowell's dyspeptic lover, Fergus, lures the family and guests back to the hallowed faux-Tudor mansion where it all began. It is at this lavish gathering that long-standing secrets, as well as bonds, will be revealed.
About the Author
---
Adrienne Miller is the literary editor at Esquire, which won the 2004 National Magazine Award for Fiction. She was born in Columbus, Ohio, and grew up around Akron. She now lives in New York City. The Coast of Akron is her first novel.
Praise For…
---
"Adrienne Miller's enormous talent is evident on every page. . . . She has written a big, smart novel that's confident and juicy." —Curtis Sittenfeld, The Washington Post

"Miller's handling of this crew is a joy, the characters revealing themselves through a clever and deftly synchronized plot and unflaggingly witty prose." —The Boston Globe

"When Miller lights the narrative fuse, her readers wait for the fireworks with heart-pounding giddiness. . . . Yet, oddly enough, it isn't the zany plot that provides the most excitement. Instead, the pyrotechnics come from Miller's enormous wit and linguistic creativity." —The New York Times Book Review

"The Coast of Akron is a joy to read and decipher." —The Plain Dealer (Cleveland)

"Splendidly realized characters . . . Miller is a gifted ventriloquist." —Chicago Tribune

"As a farce, the book could not be more bizarre, or more dead-on-target. . . . The novel this one most resembles is Don DeLillo's classic White Noise. Like the Gladneys of DeLillo's book, the family in this lively debut has a slaphappy giddiness that seems almost to come from something in the air." —The Independent (London)