The Sudden Appearance of Hope (Paperback)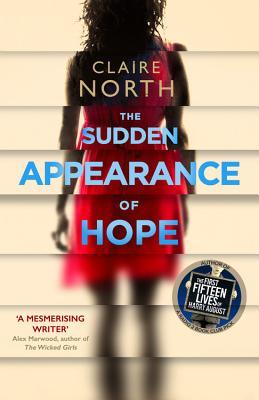 $19.99
Unavailable To Order
Description
---
The World Fantasy Award-winning thriller about a girl no one can remember, from the acclaimed author of The First Fifteen Lives of Harry August and 84K.

My name is Hope Arden, and you won't know who I am. But we've met before -- a thousand times.

It started when I was sixteen years old. A father forgetting to drive me to school. A mother setting the table for three, not four. A friend who looks at me and sees a stranger.

No matter what I do, the words I say, the crimes I commit, you will never remember who I am.

That makes my life difficult. It also makes me dangerous.

The Sudden Appearance of Hope is a riveting and heartbreaking exploration of identity and existence, about a forgotten girl whose story will stay with you forever.
About the Author
---
Claire North is a pseudonym for Catherine Webb, a Carnegie Medal-nominated author whose first book was written when she was just fourteen years old. She went on to write several other novels in various genres, before publishing her first major work as Claire North, The First Fifteen Lives of Harry August, in 2014. It was a critically acclaimed success, receiving rave reviews and an Audie nomination, and was included in the Washington Post's Best Books of the Year list. Her next novel, Touch, was also in the Washington Post's Best Books of the Year, in 2015. Catherine currently works as a theatre lighting designer and is a fan of big cities, urban magic, Thai food and graffiti-spotting. She lives in London.
Praise For…
---
"Beautifully written, with a protagonist who is both tragic and heroic, the novel is remarkably powerful and deeply memorable, the latest in a string of terrific books from this newly emerged star in the genre-blending universe."
—Booklist (starred review)

"The experience of sitting with it, sinking into it, aching along with Hope as her loneliness shapes and breaks her, was wonderful, painful and moving."
—NPR

"North has established a reputation for tense, dense, science fiction/fantasy-inflected thrillers that defy facile explanations... Simultaneously a tense conspiracy caper, a haunting meditation on loneliness and a brutally cynical examination of modern media... Well-paced, brilliant and balanced."—New York Times

"[T]his is an inquiry into modern human existence. Philosophical questions are threaded through the electrifying plot. Even the protagonist's darkness alias is "why." Reminiscent of William Gibson's best work, North leads us into a brilliant world of elite but mindless humans, and shines a sharp light on what a rare gift it is to be able to think for oneself and what the consequences of it are."—RT Book Reviews

"Startlingly original"—Independent (UK)

"North isn't here to lecture you or rehash tired debates. Instead, she's produced something that feels at the same time absent and necessary: Smart, compelling fiction about this future that asks us to outsource ever-larger chunks of our selves to the cloud."
—Tech Insider

"This is a book which is incredibly compelling, and incredibly heartbreaking at times. I could not put it down."
—The Forest of Books