The Arabian Nights, Volume I: The Marvels and Wonders of The Thousand and One Nights (Mass Market)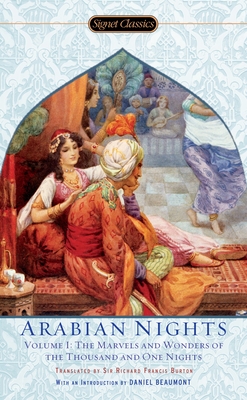 Other Books in Series
This is book number 1 in the The Arabian Nights series.
Description
---
Enjoy the timeless tales of Aladdin, Sinbad, Ali Baba and the Forty Thieves, and many more in this first volume of The Arabian Nights. 

Upon learning of his queen's infidelity, proud King Shahryar has her killed. As revenge on womankind, he decides to wed a different virgin every night, only to have her beheaded at dawn. Such is Shahryar's practice for three terrible years—until he weds Scheherazade, the maiden who will change his life....

A breathtaking beauty, Scheherazade is as learned as she is sensuous. Her first night with the king, she uses her imagination, her eloquence, and more than a little cunning to regale him with a tale of genies and wishes, wisely cutting the story short at dawn. The king is so beguiled, he cannot have her murdered without hearing the story's end. From then on, Scheherazade spends nights conjuring stories of flying carpets and fantastical journeys, always stopping with a cliff-hanger—and saving her own life.

This edition follows the unexpurgated translation of Richard F. Burton, the renowned Victorian explorer. Intricate and inventive, these stories within stories continue to captivate readers as they have for centuries.
About the Author
---
Sir Richard Francis Burton (1821–1890) was a gifted linguist, a daring explorer, a prolific author, and one of the most flamboyant celebrities of his day. Forced to leave Oxford for unruly behavior, he joined the British Army in India, where he gained a remarkable knowledge of Arabic, Hindustani, and Persian, eventually acquiring twenty-nine languages and many dialects. He led the famed expedition to discover the source of the Nile and, disguised as a Muslim, made a pilgrimage to the city of Mecca, then forbidden to non-Muslims, and penetrated the sacred city of Harare in uncharted East Africa. Burton translated unexpurgated versions of many famous texts including the Kama Sutra (1883) and Arabian Nights (1885-88), which is perhaps his most celebrated achievement.

Daniel Beaumont is an associate professor of Arabic language and literature at the University of Rochester and the author of Slave of Desire, a critical study of the Arabian Nights. He is also a teacher and scholar of the blues.

Jack Zipes is a professor of German at the University of Minnesota. The author of several books on fairy tales, including Don't Bet on the Prince, Fairy Tales and the Art of Subversion, and Breaking the Magic Spell, he is the editor and translator of The Complete Tales of the Brothers Grimm and the editor of Signet Classics's The Complete Fairy Tales of Oscar Wilde.