A Boy in Winter: A Novel (Vintage International) (Paperback)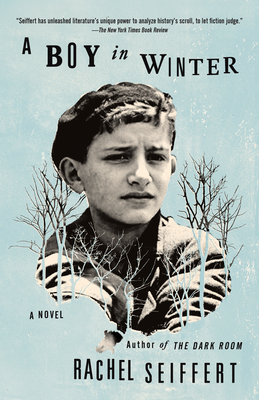 Description
---
Early on a gray November morning in 1941, a small Ukrainian town is overrun by the SS. Penned in with his fellow Jews, a father anxiously awaits word of his two sons, while a young woman, come to fetch her sweetheart away from the invaders, must confront new and harsh truths about those closest to her. At the same time, a German engineer, here to avoid a war he considers criminal, is faced with an even greater crime unfolding behind the lines and no one but himself to turn to. And in the midst of it all, a boy determined to survive must throw in his lot with strangers. As their stories weave together, each of these characters comes to know the compromises demanded by survival, the oppressive power of fear, and the possibility of courage in the face of terror.
About the Author
---
Rachel Seiffert's first novel, The Dark Room, was short-listed for the Booker Prize, won the Los Angeles Times First Fiction Prize, and was the basis for the acclaimed motion picture Lore. She
was one of Granta's Best of Young British Novelists in 2003; in 2004, Field Study, her collection of short stories, received an award from PEN International. Her second novel, Afterwards, and her third, The Walk Home, were both long-listed for the Orange/Baileys Prize for Fiction. In 2011, she received the E. M. Forster Award from the American Academy of Arts and Letters. Seiffert's books have been published in eighteen languages. She lives in London with her family.
Praise For…
---
A New York Times Notable Book
A Times (London) Book of the Year

"Seiffert has unleashed literature's unique power to analyze history's scroll, to let fiction judge." —The New York Times Book Review

"Seiffert packs a great deal into a small amount of space. Her prose style resembles a cello onstage played in the pitch dark. Sonorous and somber and yet what use it makes of just a few notes. . . . [She] is such a patient and poised storyteller that, even though history tells us otherwise, like all the characters in the book, we read toward its terrible climax believing—perhaps it will not happen." —The Boston Globe

"Superb, delicately poised." —Financial Times
 
"[Seiffert's] spare, beautiful prose is a joy to read." —The Guardian

"A close study of moral choice. . . . Most literature of the 'third generation' after the war explores the impact on its descendants. Ms Seiffert's fictions are different: they inhabit the events themselves. Yet from all-too-familiar horror they swerve into the unexpected, into a new story—a gleam in the darkness that readers haven't seen before." —The Economist
 
"Seiffert's writing is spare and atmospheric, perfectly paced to achieve the maximum effect of stillness yielding to panic, order giving way to violent disorder and, eventually, winter turning into spring." —The Times Literary Supplement
 
"Without wasting a word, Seiffert follows [her characters] with an implacable calm, although outrage lurks under the surface of every word." —The Literary Review
 
"The primal energy in this novel is a moral sore that will never heal." —John Sutherland, The Times (London)
 
"A tale of suspense, terror and flight, but also of existential dilemma, moral courage and endurance. . . . Some day it may rank as a classic of the Wild East." —The Jewish Chronicle
 
"Completely captures those times in a vivid, precise, captivating and terrible way." —Philippe Sands, author of East West Street
 
"[An] accomplished literary work. . . . The novel truly shines in its offering of diverse, authentic perspectives." —Booklist
 
"Seiffert is a master at creating tension and empathy in a novel that turns on the nuances of human behaviour." —The Observer
 
"Spare, elegant and devastating." —Psychologies magazine
 
"A fine novel that locates small, flickering lights of hope in an otherwise desolate landscape." —The Sunday Times (London)