The Man-Not: Race, Class, Genre, and the Dilemmas of Black Manhood (Paperback)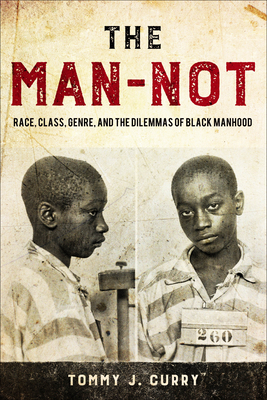 $40.19
Usually Ships in 1-5 Days
Description
---
The Before Columbus Foundation 2018 Winner of the AMERICAN BOOK AWARD

Tommy J. Curry's provocative book The Man-Not is a justification for Black Male Studies. He posits that we should conceptualize the Black male as a victim, oppressed by his sex. The Man-Not, therefore,is a corrective of sorts, offering a concept of Black males that could challenge the existing accounts of Black men and boys desiring the power of white men who oppress them that has been proliferated throughout academic research across disciplines.
Curry argues that Black men struggle with death and suicide, as well as abuse and rape, and their genred existence deserves study and theorization. This book offers intellectual, historical, sociological, and psychological evidence that the analysis of patriarchy offered by mainstream feminism (including Black feminism) does not yet fully understand the role that homoeroticism, sexual violence, and vulnerability play in the deaths and lives of Black males. Curry challenges how we think of and perceive the conditions that actually affect all Black males.
About the Author
---
Tommy J. Curry is a Professor of Philosophy and holds a Personal Chair (Distinguished Professorship) of Africana Philosophy and Black Male Studies at the University of Edinburgh. He is the past president of Philosophy Born of Struggle, and the recipient of the USC Shoah Foundation 2016–2017 A.I. and Manet Schepps Foundation Teaching Fellowship. He is the author of Another White Man's Burden: Josiah Royce's Quest for a Philosophy of Racial Empire and the editor of The Philosophical Treatise of William H. Ferris: Selected Readings from The African Abroad or, His Evolution in Western Civilization.
Praise For…
---
"Tommy Curry has written a cool, brilliant defense of the men who are the pariahs of American society: the ones who, regardless of class, find themselves at the bottom of every hierarchy; the ones whose demographics and statistics in terms of the criminal justice, health care, and other systems are abysmal. Countless billions have been made from the portrayal of Black males as Boogeymen. The Man-Not is heavy work, but the general reader will find its arguments well worth the time and effort. This book is controversial. Those who've dogged and stalked Black men in the academy and popular culture for the past few decades are sure to have their critical knives out. I know. But it's rare for an American intellectual to step up, regardless of the fallout. This book is the one that I've been waiting for. Curry has taken a bullet for the brothers."—Ishmael Reed, Professor Emeritus at the University of California, Berkeley, and Visiting Scholar at the California College of the Arts

"In a bold—indeed, fearless—intervention in the ongoing race/gender/sexual orientation debates, Tommy Curry challenges the cozy consensus among self-conceived progressives in the humanities. The oppression of black men has been conceptually erased, he argues, by theoretical frameworks indifferent to the social science data that refute them. Sure to ignite a firestorm of controversy, The Man-Not is an impassioned protest against orthodoxies, both mainstream and radical, white and black. It is required reading for anyone interested in understanding oppression or having unquestioned assumptions put to the test."
—Charles W. Mills, Distinguished Professor at the City University of New York Graduate Center
 

"The Man-Not introduces a progressive black male studies that is decidedly nonfeminist, and the book demands a radical rethinking of the category of 'gender' itself.... It is impressive to watch Curry build arguments and the seamless manner in which the philosopher moves between sources across disciplines.... (It is) refreshing to read a book that has little time for academic pleasantries and is so eager to transcend the boundaries of traditional gender theorizing.... (R)eaders from diverse academic backgrounds can still learn much in its pages." —Men and Masculinities

"This book reads as a spiritual successor to W.E.B. Dubois's 1906 keynote speech delivered during the second annual Niagara Movement Conference.... Curry echoes the same sentiment that Black men have been subjugated due to systemic violence, denial of rights, and oppression. The author is open and candid that this is as much an emotional book as an academic one.... It is an impassioned plea for justice and legitimation that is often read in books but rarely felt.... The book is an incredible piece of scholarship for Black Male Studies and completely convincing in its claim that there is not only a need for Black Male Studies but a need to study it across multiple disciplines, particularly at the intersection of race, masculinity, law, politics, and class. His ability to deliver scholarship that is part literature review, part critique, part analysis, and part biography makes this book an important piece of work set to help steer Black Male Studies into a new, exciting direction."—Sociology of Race and Ethnicity

"Curry offers a provocative discussion of black masculinity by critiquing both the social and academic treatment of killings of black men and boys in the US. The author forces readers to reevaluate the interpretations and stereotypes the media uses. He argues that gender studies has disadvantaged black men by imposing and supporting negative historical stereotypes and ignoring the diversity of black boys and men and by falsely aligning black masculinity with white masculinity.... The present book is an attempt to fill the gap by presenting a philosophical theory on black masculinity that Curry claims is nonexistent in philosophy.... (A)n excellent basis for discussions of the academic constructs of legitimacy in research. Many readers may find this book an uncomfortable read, and that is the very reason it should be read....Summing Up: Highly recommended." —Choice

"The Man-Not is an impressive book, sure to upset scholars invested in static gender theory based on racial myths reproduced in the academy in lieu of empirical debates addressing the impossibility of Black patriarchy amid anti-Black achievement policies that disproportionately affect Black males.... The Man-Not exemplifies the deep, risky criticism that all scholars should aspire to, particularly as Curry's call for the institutionalization of Black male studies is compelling.... Curry's argument is contentious yet indispensable amid the oftentimes deadly systemic oppressions that Black males encounter."--Women's Studies in Communication