Bittersweet: Recipes and Tales from a Life in Chocolate (Hardcover)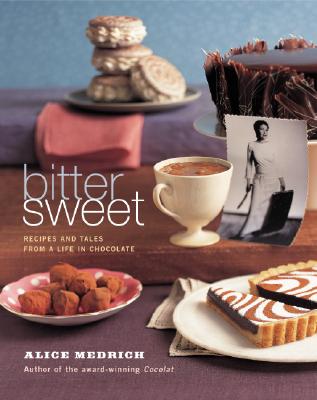 Description
---
It is hard, today, to imagine a time when the word bittersweet was rarely spoken, when 70 percent of the chocolate purchased by Americans was milk chocolate. Today's world of chocolate is a much larger universe, where not only is the quality better and variety wider, but the very composition of the chocolate has changed.

To do justice to these new chocolates, which contain more pure chocolate and less sugar, we need a fresh approach to chocolate desserts—a new kind of recipe—and someone to crack the code for substituting one chocolate for another in both new and classic recipes. Alice Medrich, the "First Lady of Chocolate," delivers.

With nearly 150 recipes—each delicious and foolproof, no matter your level of expertise—BitterSweet answers every chocolate question, teaches every technique, confides every secret, satisfies every craving. You'll marvel that recipes as basic as brownies and chocolate cake, mint chocolate chip ice cream and chocolate mousse, can still surprise and excite you, and that soufflés, chocolate panna cotta, even pasta sauces can be so dramatically flavorful.

For the last thirty years, Alice Medrich has been learning, teaching, and sharing what she loves and understands about chocolate. BitterSweet is the culmination of her life in chocolate thus far: revolutionary recipes, profound knowledge, and charming tales of a chocolate life.
About the Author
---
Alice Medrich is truly a star in the baking world, having won more cookbook-of-the-year awards and best in the dessert and baking category awards than any other author. She received her formal training at the prestigious Êcole Lenôtre in France, and is widely credited with introducing the chocolate truffle to the United States when she began making and selling them at her influential Berkeley dessert shop, Cocolat. She has since left the retail world, devoting much of her career to teaching and sharing her expansive knowledge about baking.

She is the author of Flavor Flours, Seriously Bitter Sweet (a complete revision of her 2003 IACP-prize-winning BitterSweet), Sinfully Easy Delicious Desserts, Chewy Gooey Crispy Crunchy Melt-in-Your-Mouth Cookies, Pure Dessert, and Chocolate Holidays.
Deborah Jones's recent honors include Best Photography in a Cookbook from the James Beard Foundation for her work in Bouchon. A frequent contributor to national magazines, she conducts a parallel commercial career from her San Francisco studio.
Praise For…
---
"Learn everything you need to know about baking and cooking with chocolate in this comprehensive guide."
—Better Homes & Gardens 
"I recommend Alice Medrich's recent revision of her classic Bittersweet. Now called Seriously Bitter Sweet, the book offers recipes substitutions that allow you to use whatever percentage chocolate you favor."