Outlaws: A Novel (Paperback)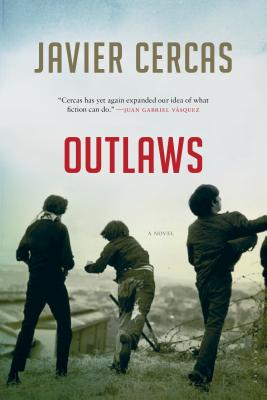 Description
---
In the late 1970s, after the death of Franco, Spain was in a state of transition. Gangs of juvenile delinquents, called quinquis, swarmed the streets. The most famous of them was Zarco.

In the summer of '78, Zarco's gang rises to infamy. One of his recruits is a middle-class misfit he dubs Gafitas. The sixteen-year-old is dazzled by Zarco, but even more so by the gorgeous Tere, who may or may not be Zarco's girlfriend. Drawn away from his staid summer job, Gafitas becomes involved in a crime spree that quickly escalates from snatching handbags to robbing banks. When a robbery goes wrong, Zarco is caught, and Gafitas returns to his old life. Tere disappears. But their three fates will always be intertwined, and Zarco's polestar persona only grows in prison, celebrated in movies and songs, fueled by his role in riots and breakouts. And after Gafitas becomes a prominent lawyer, Tere shows up to recruit him once again.

Now, Gafitas wants to tell the true story of the notorious gangster. In Outlaws, Javier Cercas surveys, with his usual brio, the porous borders between fact and fiction, right and wrong, proving himself once again one of the most brilliant novelists writing today.
About the Author
---
Javier Cercas is a lecturer in Spanish Literature at the University of Gerona. Soldiers of Salamis has been published in fifteen languages.
Praise For…
---
"[A] sly novel about the lives and fates of a gang of teenage outlaws in post-Franco Spain . . . Enticing mysteries drive the narrative forward . . . Yet it's the overarching mystery of identity that ultimately sets this novel apart." —The New York Times Book Review

"A moving meditation on youth, love, betrayal and the media, as well as an uncompromising political novel. Cercas has yet again expanded our idea of what fiction can do." —Juan Gabriel Vasquez, author of THE SECRET HISTORY OF COSTAGUANA

"His novels probe the sore spots and raw wounds of contemporary Spain, their cunning and complexity leavened by a light touch and an easy, graceful style in which captivating dialogue becomes a genuinely dialect pursuit of truth." —The Independent on Sunday

"The beauty of this intelligently probing novel is that one is left wondering if we ever truly know anything about anybody--that anybody including ourselves." —Scotsman

"Compelling . . . Though the novel moves towards a suite of surprising and unsettling revelations about the characters, the real strengths of the book are in Cercas's unadorned prose, once again deftly translated by Anne McLean, and in his ear for the rhythms of everyday speech." —Guardian

"Cercas adroitly balances the earlier criminal thrills with the later moral and emotional complexities." —New Statesman

"The story is told entirely through speech--different speakers addressing an unnamed interviewer in alternating chapters. It's an elegant construction that gives immediacy and pace from the start." —Literary Review

"A vibrant yet realistic portrait of two teenage boys who find themselves in very different circumstances in adulthood . . . It's a compelling, drawn-out story with rich period detail and emotional depth." —Kirkus Reviews