Ableism in Academia: Theorising Experiences of Disabilities and Chronic Illnesses in Higher Education (Paperback)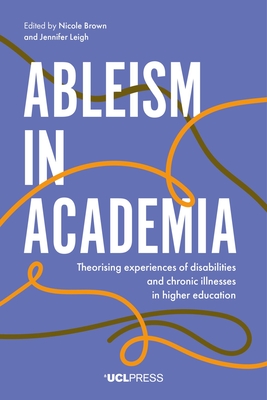 Description
---
Rather than embracing difference, academic ecosystems seek to normalize and homogenize ways of working and of being a researcher. As a consequence, ableism is an endemic experience in academia, though to date no attempt has been made to theorize those experiences. Ableism in Academia provides an interdisciplinary outlook on ableism that is currently missing. Through reporting of research data and exploring personal experiences, the contributors explore the concept of what it means to be and to work outside the so-called norm.
 
The volume brings together a range of perspectives, including feminism, post-structuralism, Derridean and Foucauldian theory, crip theory, and disability theory, and draws on a number of related disciplines. Contributors use various schools of theory to raise awareness and increase understanding of the marginalized. These theories are placed in the context of neoliberal academia, and used to interrogate aspects of identity and how disability is performed, and to argue that ableism is not just a disability issue. This timely collection will be of interest to researchers in disability studies, higher education studies, and sociology, as well as to those working across the social sciences.
 
About the Author
---
 Nicole Brown is a lecturer in education and academic head of Learning and Teaching at the UCL Institute of Education.  

Jennifer Leigh is a senior lecturer at the Centre for the Study of Higher Education, University of Kent.
Praise For…
---
"An enriching source of knowledge regarding the personal experiences and attempts to theoretically conceptualise ableism in academia."
— Alter, European Journal of Disability Research