Keto Diet After 50: Keto for Seniors - The Complete Guide to Burn Fat, Lose Weight, and Prevent Diseases - With Simple 30 Minute Recipes a (Hardcover)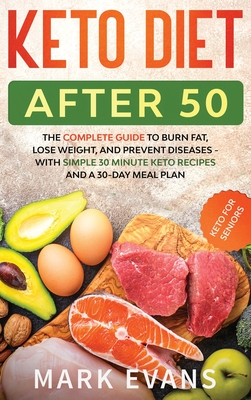 $34.99
Usually Ships in 1-5 Days
Description
---
Looking for a proven way to lose weight for people over 50?
Perhaps you've tried every other diet but just can't lose those stubborn extra pounds? Or perhaps you've started to notice health problems as soon as you hit the age of 50? It's perfectly normal for the body to have a few issues as you advance in years - but does that mean you can do nothing about it?
This book will show you how you can get a second lease on life through the Ketogenic Diet. This book, the Keto Diet After 50: Keto for Seniors addresses the key points of adopting the Ketogenic Diet to your unique situation. This book's goal is to help you reformat your dietary lifestyle to help you raise your potential during this stage of your life.
Inside you'll discover:
The reason why the Ketogenic Diet works
The many benefits you'll get by adopting the Ketogenic Diet for people in their 50s
The roadblocks you might experience when shifting to this dietary plan - and how to solve them
The best meals, food types, and ingredients for the Ketogenic Diet
All kinds of recipes using the ketogenic diet, covering breakfast, lunch, dinner, and everything else in between
30-day meal plans that will help you get started in your quest for a slimmer and healthier body
And much more
If the books and articles you've read before have not helped - this one will. Everything in this book has been tried, tested, and verified by the experts. This not only helps you understand why the Ketogenic Diet works but actually provides actionable instructions and steps towards the right direction. It's not enough that you have an idea of how and why Keto does what it does, but it will tell you which direction to take for your very first day.
I understand that one of the biggest frustrations about going on a new diet is the difficulty of making that "switch" from your regular diet to a new one. Which food should you try first or what meal should you replace first? The Keto Diet after 50: Keto for Seniors: The Complete Guide to Burn Fat, Lose Weight, and Prevent Diseases - With Simple 30 Minute Keto Recipes and a 30-Day Meal Plan solves all this by showing you step-by-step from the first to the very last day. To help you further, we've added all kinds of recipes that should help you quickly make substitutions in the meal plan or perhaps, let you experiment with new flavors.
So click the "Buy Now" button and start reading what the Ketogenic Diet has in store for you. Play with flavors, understand your unique nutritional needs, lose the excess weight, and enjoy your 50s to the fullest